The Rise of the Single-Person Household
Perhaps nothing speaks greater volume about changes in modern American life than the rise of the single-person household. A recent paper authored by Census Bureau researchers shows that a hundred years ago, fewer than six percent of all households consisted of people who lived alone. By 1940, that share had only inched upward to 7.8 percent. By 2013, at 28 percent of all households, it is now the second most common household type just behind married couples without minor children (29 percent), and well ahead of marrieds with minor children in the household (19 percent). In the 19thand early 20th centuries, single-person households consisted mostly of men, but the greatest gains in living alone during the past 50 years have been among women. Today, women head 54 percent of all single-person households. In the past, when living alone might have been a short-term condition, for many it is now a long-term situation, the result of a number of broad demographic and economic forces at work over the past half century: greater affluence, longer lives, later ages of marriage, higher divorce, smaller family sizes, greater labor force participation and financial independence of women, and stronger government safety nets across a wide spectrum of social programs.
In parts of the country the share living alone is much higher than the national average. In many counties in the nation's mid-section, where outmigration of young adults have led to older populations, between 30 and 40 percent of all households are single person. In large cities, single person occupancy can account for 45 percent of all households. A Pew Research Center study of single-person households reports that in some neighborhoods in Manhattan and DC, the share of single-person households approaches two thirds.
According to the 2013 American Housing Survey, single-person households are spread across all ages. About 28 percent of all single person households are under the age of 45, another 36 percent between the ages of 45 and 64, and 36 percent are over the age of 65. Among the elderly, the older the household head, the higher the percentage that live alone. Fully 43 percent of households headed by those over the age of 65 are single-person, with 65-69 year old heads having 34 percent, 70-74 year olds at 37 percent, and 75+ registering 52 percent. Aging baby boomers will drive the share of over-65 year olds living in single-person households even higher over the next two decades.
As recently as 1940, 61 percent of single-person households consisted of renters, but today owners are in the majority, with the 2013 American Housing Survey reporting that 54 percent of single person households were owner-occupied. Between 2003 and 2013, owners accounted for 55 percent of the growth in single person households. Among single-person households under the age of 45, two thirds are renters, but among single-person households over the age of 65, owners are a strong 70 percent majority (Figure 1).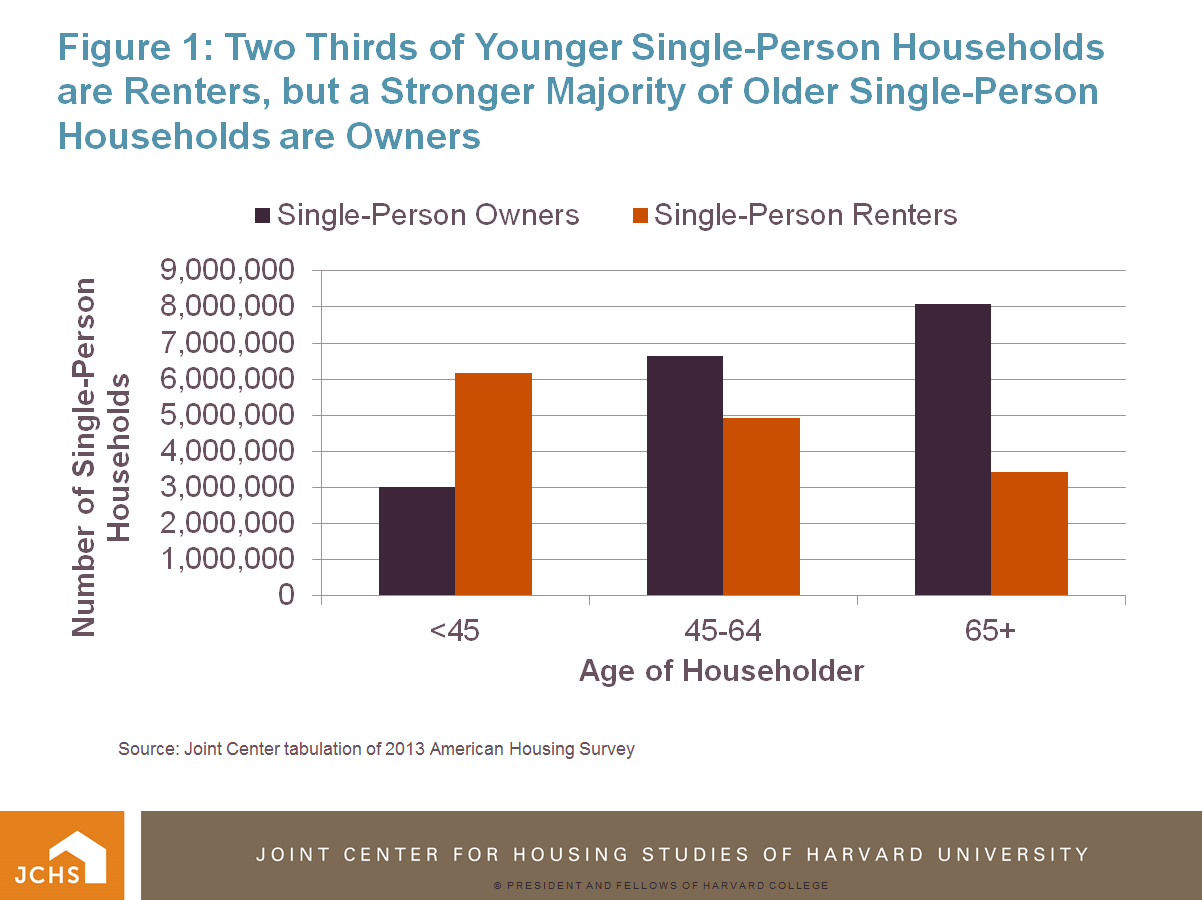 Single-person owners and renters are markedly different in terms of the type of housing they occupy. Fully three quarters of single-person renters live in multi-family housing, but among single-person owners almost three quarters live in single-family detached units, and another 8 percent in single-family attached structures. Single-person owners also live in larger units, with 63 percent in homes with 3+ bedrooms. This compares to only 12 percent of single-person renters living in large units (Figure 2).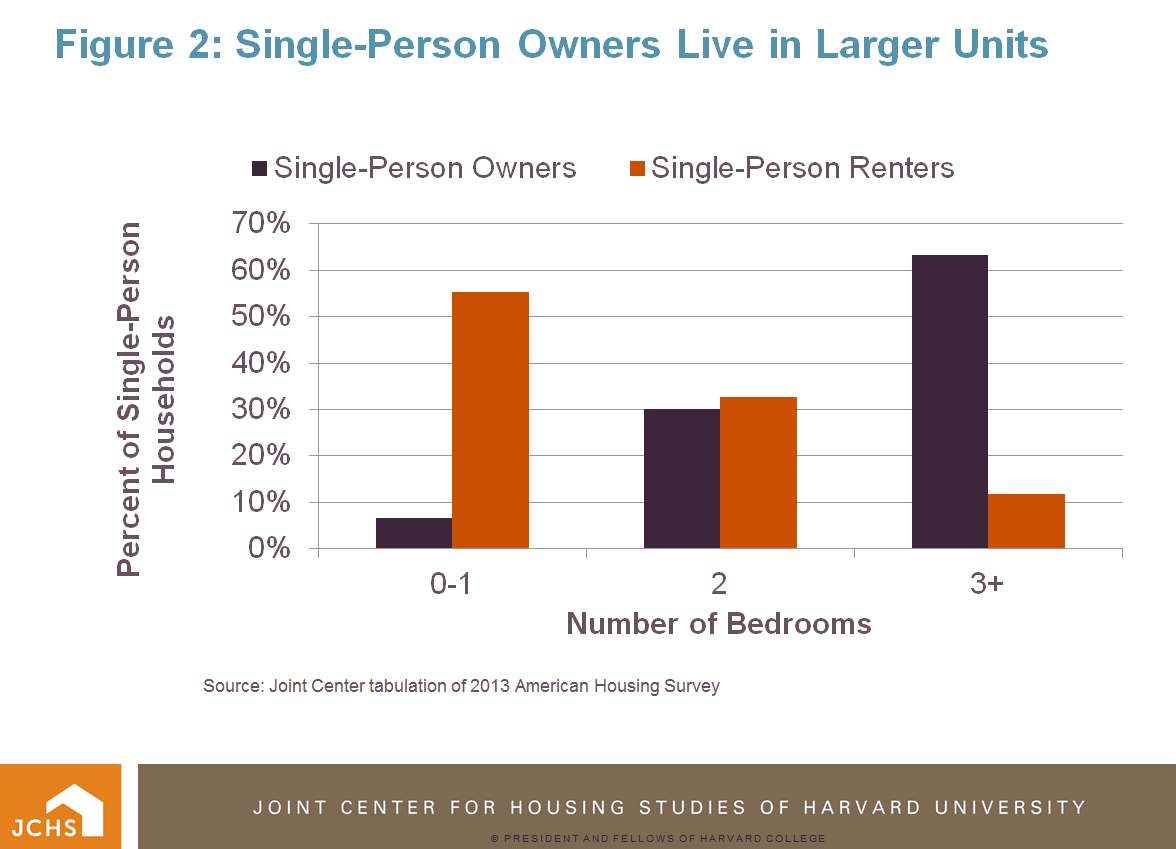 The reason that more single-person owners live in larger units compared to single-person renters is that many widows and divorcees remain in their homes after life-course events have left them living alone. Almost three-quarters of single-person owners have been in their homes for 10 or more years, including 40 percent who have been there for 20 or more. This compares to only 16 percent of single-person renters having lived in their homes for 10 or more years. Among single-person owners over the age of 65, 59 percent have been in their home for 20 or more years and another 21 percent for 10-19 years.
Of course, not all single-person owners have lived alone the entire time in the home they now occupy. While for many, living alone might be a relatively recent event; for others it has become a long-term situation. When becoming single in late middle-age, such as when adult children of divorcees leave home, or when a spouse dies at a relatively young age, staying put has many advantages – including a neighborhood support network, familiar routines, and an overwhelming need for some stability in at least this one dimension of a life that has been turned upside down. But for many, the longer one lives alone and the older one gets, the more difficult it becomes to make a housing adjustment that might make sense across a wide spectrum of criteria.
Because young and middle-aged adults who live alone are more likely to be renters and to have lived in their homes for shorter periods of time, they are most likely to have chosen a house or apartment that best meets their current needs – in location, tenure, size, and cost.  This could also be said of elderly renters who are more mobile than elderly owners.  Elderly owners, however, who have lived in their homes for many years, are more likely to be living in places that were more suitable to when they were married or had young children. A recent Joint Center report highlights housing issues faced by many older adults as they age in place, including housing cost burdens and a lack of accessibility features in homes that are increasingly important as they faces health and mobility issues. While that report did not focus on older single-person households in particular, many of the concerns that were raised for all elderly are magnified for this group as they lack a partner or companion who can help both financially and physically.
In general, housing markets in this country respond fairly quickly to changes in demand. The upturn in multi-family construction following the Great Recession is a case in point.  However, one area where housing markets have been slow to respond is to fill the demand for smaller, affordable single-family owned units that are geared to the older homeowner in communities where the elderly now live. Land cost and availability, regulatory constraints, high property tax rates, proximity to shopping and services, and difficulties accessing public transportation are all obstacles to building such housing where many elderly now live and wish to continue to live. Unless these obstacles can be overcome, aging in place will continue to increase the number of elderly who live alone in homes that are too large and costly to maintain, requiring being able to drive to shop and get to necessary services, and perhaps unsafe and difficult to navigate when health and mobility begins to deteriorate.