Supporting Homeowners in a High-Cost, High-Opportunity City
New York City is an increasingly expensive place to live, and housing prices are dramatically outpacing incomes. In fact, over the past 25 years, home prices have increased 200 percent while incomes have remained stagnant. Moreover, today, half of the city's renters and 37 percent of its homeowners are considered housing cost burdened.
In his recently released symposium paper on "Expanding Access to Homeownership as a Means of fostering Residential Integration and Inclusion," Christopher Herbert presents a compelling case for making homeownership more affordable and accessible to achieve higher levels of residential integration and inclusion. At the Center for NYC Neighborhoods, a nonprofit that protects and promotes affordable homeownership in New York, we have seen firsthand the essential role homeownership plays as a bulwark against displacement within the context of gentrification and increasing unaffordability. In addition to enthusiastically endorsing Herbert's policy recommendations to promote new homeownership opportunities, we also encourage policymakers to develop approaches that support existing homeowners.
Gentrification, Displacement, and Housing Mobility
Current discussions of housing mobility generally focus on the importance of supporting families who choose to move from racially-segregated, high-poverty neighborhoods to neighborhoods with greater racial integration and economic opportunities. This is, of course, a worthy goal. Yet, the goals of choice, inclusivity, and opportunity also require us to support families who are at risk of being forced to leave neighborhoods due to rising costs. By supporting families who are vulnerable to displacement, we can promote inclusion and ensure that families of all backgrounds and incomes have access to economic opportunity and improved neighborhood conditions.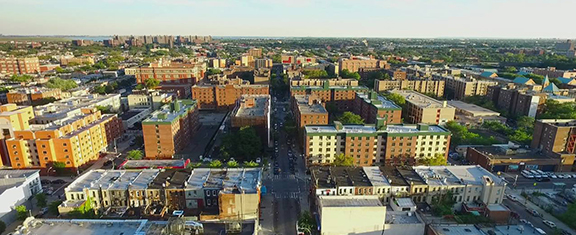 The Center for NYC Neighborhoods spent 2017 studying what happens to families in one such neighborhood: East New York, in Brooklyn. Home to thousands of black and Hispanic working-class homeowners, East New York has historically been one of New York City's most affordable neighborhoods. Like many communities of color around the country, it continues to be battered by the legacy of the Great Recession and high rates of foreclosure.
But, in recent years, home prices have spiked and the neighborhood has experienced an influx of investment and increasingly affluent residents. Labeled Brooklyn's "last frontier" by real estate investors, the neighborhood's longtime homeowners and tenants face increasing uncertainty.
For our study, we tracked East New York residents who moved out of their homes between 2012 and 2016, focusing on homeowners who were facing foreclosure. We found that homeowners with mortgage distress who stayed within the city tended to become renters, contributing to a saturated rental market in the few remaining affordable neighborhoods. We also found that homeowners who left the city tended to move to places with more affordable housing, but at the cost of access to jobs, higher transportation costs, and reduced economic mobility.
Interventions to Support Existing Homeowners

Our findings demonstrate that the role foreclosure plays in helping to feed the cycle of neighborhood change and displacement, and underline the importance of policies that support and stabilize low- and moderate-income homeowners. We recommend the following:
Streamline and expand home repair resources: Unaffordable home repairs are one of the biggest challenges for lower-income homeowners, and existing resources are often unable to meet the need.
Continue to fund homeowner stabilization assistance: Foreclosure prevention services face major cuts in New York, as well as nationally, yet tens of thousands of homeowners continue to struggle to avoid foreclosure. We recommend continuing to support these vital services and developing innovative new programs to promote homeowner stabilization, such as financial empowerment counseling and matched savings accounts.
Reform policies towards tax- and water-bill-delinquent homeowners: Many lower-income homeowners struggle to afford property tax and water bills. When faced with the prospect of an in rem or tax lien foreclosure, they may feel they have no other choice than to sell their home, which can further stoke the loss of affordable housing. We recommend developing income-based repayment plans and alternative debt servicing models.
Support homeowner-landlords in order to support tenants: Rental units in owner-occupied homes provide a major source of affordable housing. However, the future of these units is at risk. We recommend developing incentives for homeowners to provide rental units that are affordable for low-income individuals or families leaving homeless shelters, as well as legalizing safe basement apartments and other accessory dwelling units. These reforms would have the joint benefits of stabilizing existing homeowners' finances and creating additional affordable housing opportunities for renters.
Strengthen local incomes and economic opportunity: We recommend improving access to good jobs through neighborhood-targeted workforce development, job access strategies, and living-wage policies. Tax policy maters, too. For example, many of the homeowners we serve do not earn enough to benefit from the Mortgage Interest Deduction. As Herbert recommends, converting the deduction to a credit would provide direct assistance that is better targeted to lower-income homeowners.
Our ability to protect the working- and middle-class homeowners in neighborhoods like East New York will help decide whether New York City will remain a place of opportunity for all people, or only for real estate investors and the wealthy. Moreover, these efforts could serve as a model for people concerned about similar problems in other cities. Taking these steps requires us to recognize that there is nothing natural about displacement and that solutions exist to support vulnerable homeowners and their tenants.