Strong Remodeling Spending to Slow Pace Heading Into 2015
Growth in home improvement activity is expected to peak during the second half of 2014 and then begin to ease heading into next year, according to the Joint Center's latest Leading Indicator of Remodeling Activity (LIRA). Revised estimates from the U.S. Census Bureau show the home improvement market grew 5.6% in 2013.* For 2014, the LIRA projects annual gains in home improvement spending of 9.9% with annual growth slowing to 7.0% in the first quarter of 2015.
With the economy improving slower than expected and home sales struggling to keep up with last year's pace, the recent strong gains in remodeling spending will likely moderate later this year. Although this presents a challenge for the remodeling industry, the LIRA continues to project significant growth going into 2015 and there continue to be promising signs for remodeling, as contractor sentiment remains positive and house prices continue to rise in most areas of the country.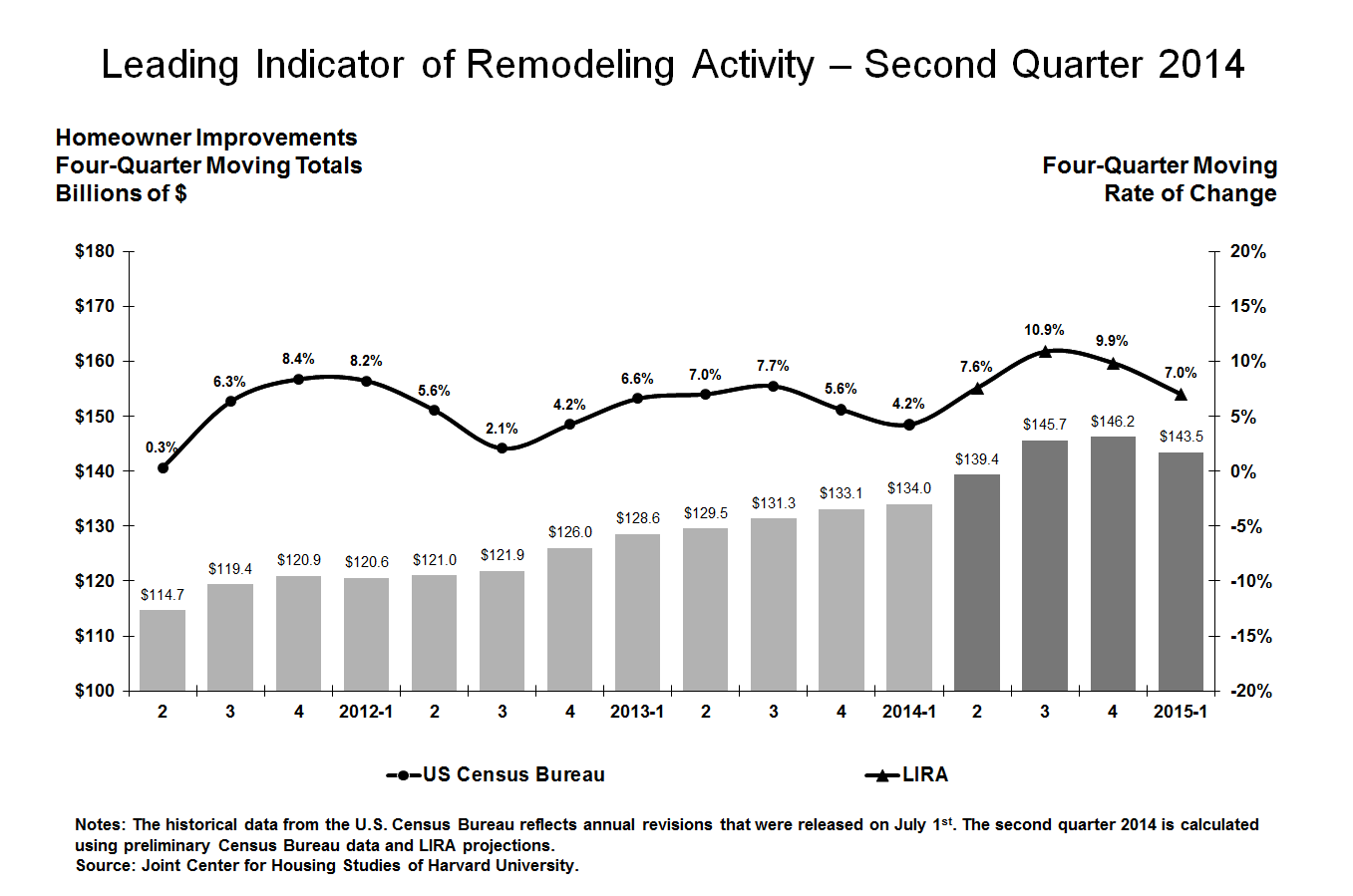 For more information about the LIRA, including how it is calculated, visit the Joint Center website.
*On July 1, the U.S. Census Bureau released annual revisions to the home improvement spending data to which the LIRA is benchmarked. These revisions, going back to January 2012, significantly restated improvement spending for the second half of 2013 when initial data collection by the Census was impacted by the October 2013 government shutdown. This LIRA release incorporates the newly revised historical data from the Census. For more information about these revisions, please visit: http://www.census.gov/construction/c30/pdf/release.pdf.
NOTE ON LIRA MODEL:  An important change was made to the LIRA estimation model beginning with the first quarter 2014 release. With the upheaval in financial markets in recent years, the traditional relationship between interest rates and home improvement spending has significantly deteriorated. As a result, long-term interest rates have been removed from the LIRA estimation model.  For more information on the implications of this change, please read our blog post from April.