Robust Remodeling Growth Anticipated by Re-Benchmarked LIRA
Strongly accelerating growth in home improvement and repair spending is expected heading into 2017, according to the newly re-benchmarked Leading Indicator of Remodeling Activity (LIRA) released today. The new and improved LIRA projects that home remodeling spending will increase 8.6% by the end of 2016 and then further accelerate to 9.7% by the first quarter of next year.
Ongoing gains in home prices and sales are encouraging more homeowners to pursue larger-scale improvement projects this year compared to last with permitted projects climbing at a good pace. On the strength of these gains, the level of annual spending for remodeling and repairs is expected to reach nearly $325 billion nationally by early next year.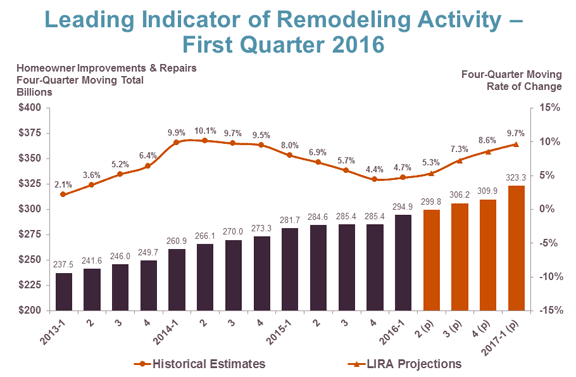 Our freshly recalibrated indicator now forecasts a broader segment of the national residential remodeling market that includes both improvement and repair activity to the owner-occupied housing stock. With this re-benchmarking, the LIRA now more accurately sizes the remodeling market and continues to anticipate major turning points in the spending cycle.
For more information about the LIRA, including how it is calculated, visit the Joint Center website.
Note on the LIRA model: As of April 21, 2016, the LIRA has undergone a major re-benchmarking and recalculation in order to better forecast a broader segment of the national residential remodeling market. For more information on the implications of this change, see our earlier blog post, and read the research note:
N16-4: Re-Benchmarking the Leading Indicator of Remodeling Activity.