Rents Have Soared Across the Country, But Home Prices Grew Even Faster
Rents across the US rose at an unprecedented pace in the second half of 2021, according to our new America's Rental Housing 2022 report. As rental markets tightened and demand soared, typical asking rents rose an astounding 11.0 percent year over year in September 2021, up from 1.2 percent a year earlier (Figure 1). Despite the unprecedented growth in rents, home prices rose even faster. Typical home values rose 18.9 percent in September, up from 5.7 percent the year before. Since the start of the pandemic, home price growth has outpaced—oftentimes doubling—rent growth, pushing the price-to-rent ratio (typical home value divided by typical annual rent) to 14.0 in 2021, up from 13.0 in 2020 and just 11.6 in 2015.
Figure 1:

Soaring Home Prices Have Added to the Pressure on Rents
The above interactive chart released in conjunction with the report shows the year-over-year change in rents and home prices in the US overall and by metro area. The rapid ascent in rents has been widespread in markets across the country. Indeed, rents rose annually in all 100 large markets tracked by Zillow in September of last year, including by at least 10 percent in nearly two-thirds (64) of markets. Despite that rent growth, home values increased faster in all but one market, as home prices rose by at least double digits in 99 markets, outpacing rent growth by 7.9 percentage points on average (Figure 2).
Figure 2: Rent Growth Exceeded Double-Digits in Most Markets; Home Prices Rose By Even More Nearly Everywhere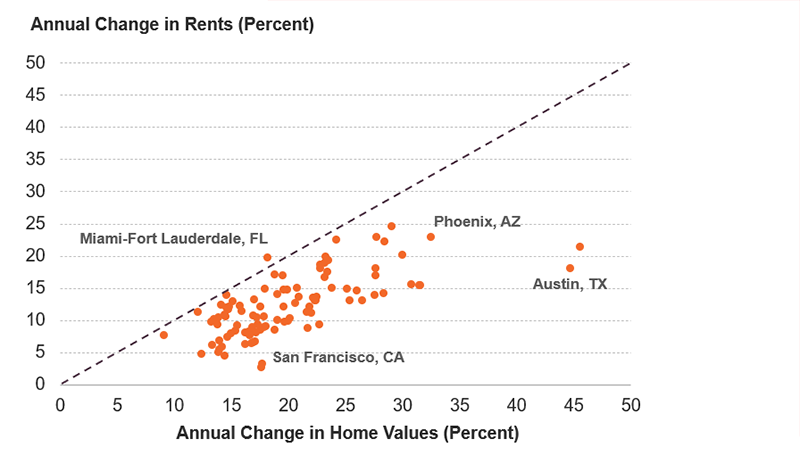 The nation's hottest rental markets were largely located in the South and West, in metros where demand was strong prior to the pandemic. Rent growth was fastest in two Florida markets—Sarasota (24.6 percent) and Tampa (23.0 percent)—followed by Phoenix (23.0 percent) and Las Vegas (22.5 percent). But home prices in these markets rose at an even more rapid clip, rising between 24.2 percent in Las Vegas and 32.5 percent in Phoenix (Figure 3). Rents grew faster than home prices in just one market, though by a small margin. In Miami, rents rose 19.7 percent, slightly more than the 18.2 percent increase in home values.
Figure 3: In Phoenix, Rents Were Rising Over 20 Percent While Home Prices Rose Over 30 Percent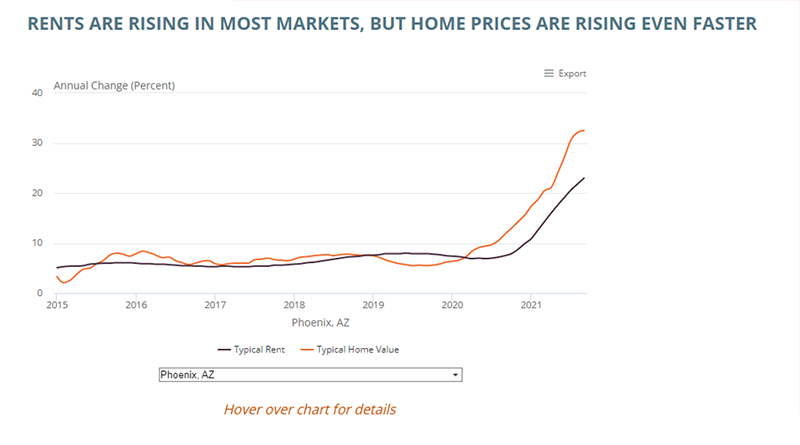 Asking rents climbed more slowly in a smaller number of markets, including some large, high-cost markets along the coast and in several Midwestern markets where rental demand was more modest prior to the pandemic. For example, rents rose by under 5 percent in just five metros: San Jose (2.6 percent), San Francisco (3.2 percent), Minneapolis (4.4 percent), Des Moines (4.8 percent), and Madison (4.9 percent). While rising slower than the national average, rent growth matched or exceeded pre-pandemic rent growth in all five markets. Rental markets in the Bay Area in particular are still recovering from a substantial hit in rental demand during the pandemic. According to data from RealPage, vacancy rates in both San Francisco and San Jose climbed 2-to-3 percentage points throughout 2020—significantly above national averages—and remained on par or above pre-pandemic levels in the third quarter of 2021. Still, even in these slower-growth rental markets, home prices increased by double digits in all five markets, ranging from 12.4 percent in Des Moines to 17.7 percent in San Francisco (Figure 4).
Figure 4: In San Francisco, Rents Increased 3 Percent Compared to the 18 Percent Rise in Home Prices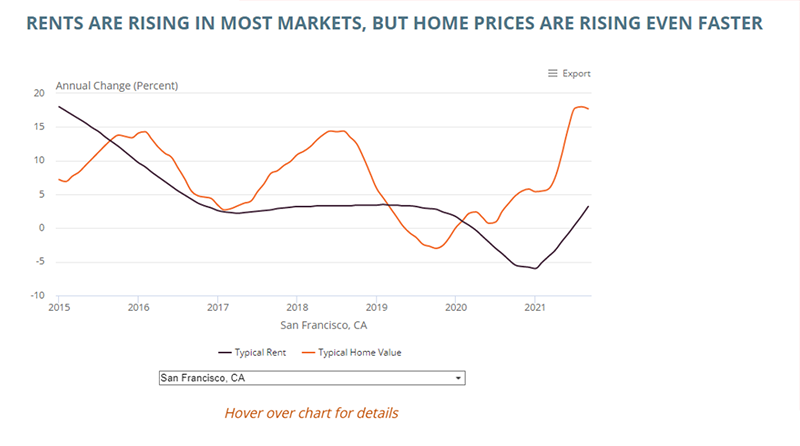 The historic rise in home prices throughout the pandemic has substantially affected rental markets. Rising home prices and the limited inventory of homes for sale have prevented many potential homebuyers from becoming homeowners. Instead, these middle- and higher-income households are more likely to turn to rental housing or remain in their rentals longer than planned. As a result, the significant growth in higher-income renter households preceding the pandemic will likely persist, bolstering already high demand for rental housing and potentially pushing up rents for units up and down the rent scale.