Remodeling Upturn to Carry into 2022
Growth in improvement and repair expenditures to owner-occupied homes is expected to remain solid throughout the year and into 2022, according to our latest Leading Indicator of Remodeling Activity (LIRA). The LIRA projects a healthy pace of mid-single digit gains in annual home renovation and repair spending this year, with 4.8 percent growth by the first quarter of next year.
With a financial boost from recent federal stimulus payments and strong house price appreciation, homeowners are continuing to invest in the upkeep and improvement of their homes. This lift in incomes and ongoing strength of the housing market are providing homeowners incentives to make even greater investments in their homes this year.
Although the recent surge in DIY activity is slackening as the economy continues to open up, homeowners are undertaking larger discretionary renovations that had been deferred during the pandemic. A shift to more professional projects should boost annual homeowner remodeling expenditures to $370 billion by early next year.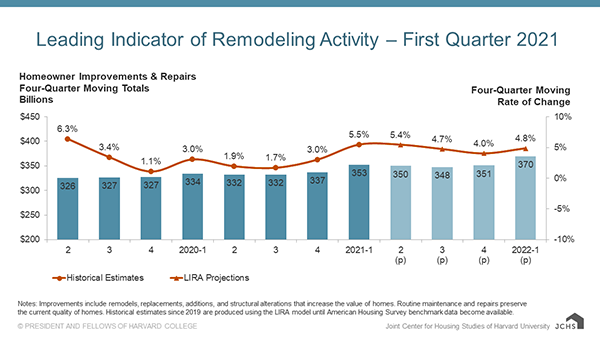 For more information, visit the LIRA page of our website.