Remodeling Gains Expected to Continue Into 2014
In our July 16 blog, Census Bureau Remodeling Data Revisions Out of Sync with Other Market Indicators, we indicated that there would not be a Leading Indicator of Remodeling Activity (LIRA) this quarter due to unusually volatile revisions to home improvement spending data collected by the U.S. Census Bureau.  On July 18, 2013, however, Census announced corrections to their annual revisions and today we are releasing our LIRA.
General strengthening in the housing market over the past 18 months is translating into increased spending on home improvements. Remodeling contractors have been reporting improving market conditions for the past four quarters, and are seeing strength in future market indicators.  Spending trends have been on a solid upward slope, with the LIRA projecting continued strengthening of the market through the end of this year and into the first quarter of 2014.
Homeowners are more comfortable investing in their homes right now. Consumer confidence scores are back to pre-recession levels, and since recent homebuyers are traditionally the most active in the home improvement market, the growth in sales of existing homes is providing more opportunities for these improvement projects.
Yet, with housing starts leveling off in the second quarter and financing costs beginning to edge up, we may be seeing the beginning of more measured growth in the residential markets. Given normal timing patterns, this suggests that the pace of growth for home improvement spending should begin to moderate as we move into 2014.
(Click chart to enlarge)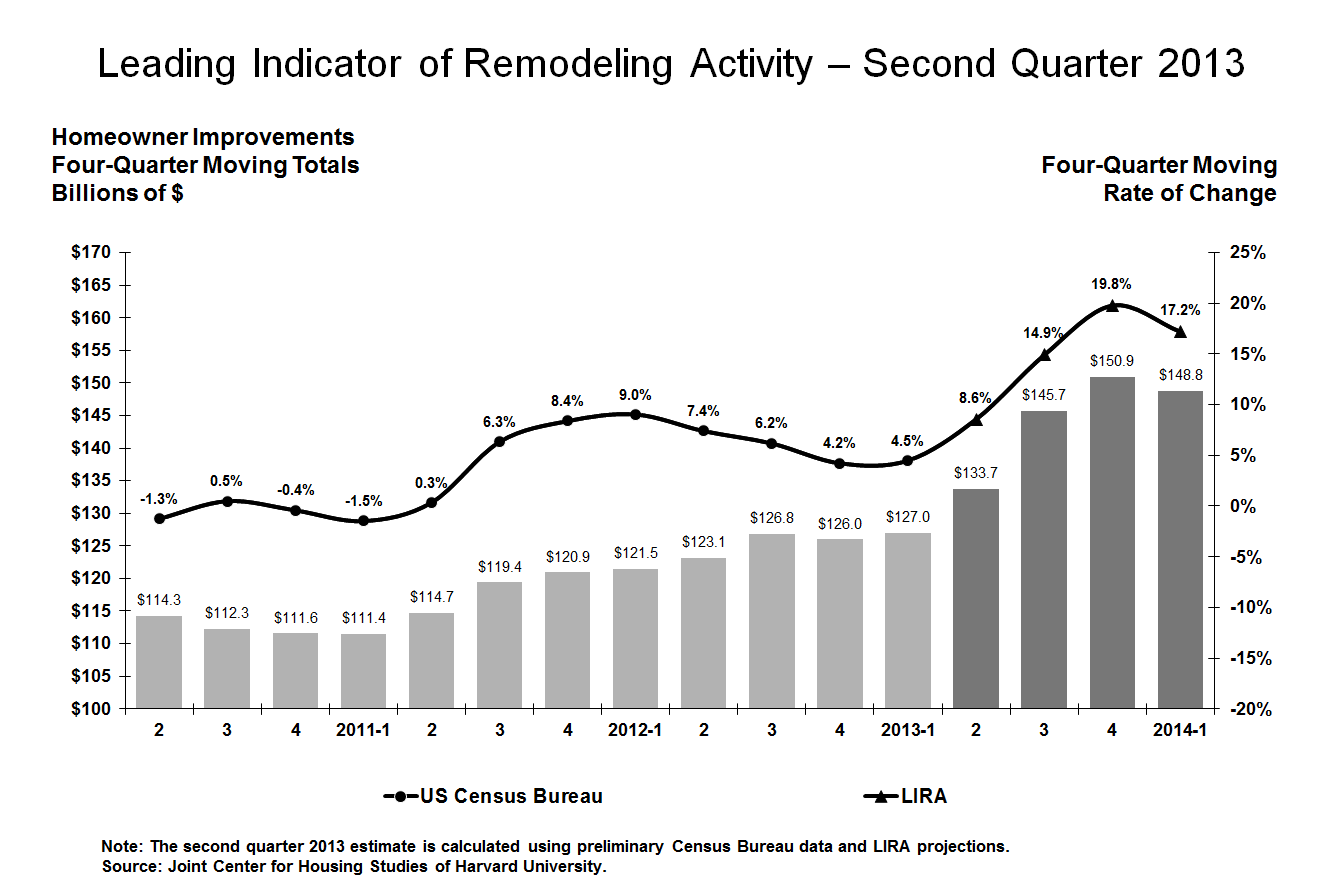 For more information about the LIRA, including how it is calculated, visit the Joint Center website.