Older Adults in the Workforce: Facing Economic and Health Risks During the COVID-19 Pandemic
Before the pandemic hit, 2.8 million older Americans worked in industries that were most at-risk of job losses as a result of COVID-19, representing a quarter of working older adults. Perhaps more than any other group, these older adults face intertwined financial and health risks due to the pandemic and the resulting economic shutdown. As businesses across the country begin to reopen, workers including many of these older adults will face the difficult choice between economic security and health. 
This analysis uses data from the 2018 American Community Survey and builds on earlier research looking at renters and homeowners in these economically vulnerable fields. At-risk jobs are those most susceptible to loss of employment or a reduction in hours due largely to social distancing measures. Many of these jobs cannot be performed remotely and include industries such as retail, transportation and travel, entertainment, and other service industries such as auto repair shops, hair and nail salons, and barbershops. At-risk industries also include oil and gas extraction, as demand for oil has plummeted across the globe.  
Of the 11 million adults age 65 and over employed at some point in the prior year, 2.8 million worked in an at-risk industry. (This includes nearly 400,000 older adult workers in retail industries that most states have deemed essential services, including grocery and convenience stores, pharmacies, and gas stations. While layoffs have been less common in these industries so far, reductions in hours and the risk of exposure remain major concerns.) In 2018, older adults in the workforce headed 7.5 million households—nearly a quarter of households headed by someone age 65 and over—including 1.8 million headed by an older adult working in at-risk industries.  
Households with older workers in at-risk industries had lower incomes and lower levels of educational attainment than their counterparts working in other industries. Fully 38 percent of those with high-risk employment earned under $45,000 compared to 23 percent in low-risk jobs (Figure 1). Likewise, just 31 percent of older-adult households with workers in at-risk jobs had a bachelor's degree, compared to 45 percent of households in lower-risk industries.  
A high share of older adults, both those in the workforce and those who are retired, own their homes. Older adult households in the workforce, however, are much more likely to own a home with a mortgage than those who are retired. Among those who did not work in 2018, over three-quarters of households owned their housing, including over half (52 percent) who owned their homes free-and-clear. Among those in at-risk industries, 79 percent owned their homes, but just 39 percent owned without a mortgage. The remaining 61 percent of households had ongoing housing costs associated with having a mortgage (40 percent) or renting (21 percent).   
Figure 1: Despite Having Relatively Lower Incomes and Education Levels, Older Adults Working in At-Risk Industries Rent or Have a Mortgage at Similar Rates to those in Low-Risk Fields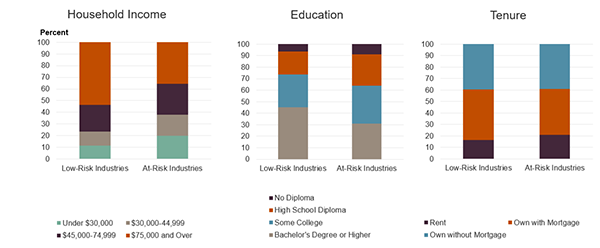 Notes: Data are for households age 65 and over only. At-risk industries are those most likely to suffer job losses or a reduction in hours due to social distancing measures as a result of COVID-19.
Source: JCHS tabulations of US Census Bureau, 2018 American Community Survey 1-Year Estimates.
These tenure forms pose several challenges to older adult households susceptible to a sudden and unexpected loss of income. First, renters and owners with a mortgage spend considerably more for their housing than those who own free-and-clear. At the median, older-adult homeowners in high-risk jobs with a mortgage spent $1,350 on their housing per month in 2018, 37 percent higher than renters ($990) and fully 164 percent higher than homeowners without a mortgage ($510). Moreover, older-adult renters face the risk of eviction resulting from nonpayment of rent, while for homeowners with a mortgage, the prospect of missing payments means a heightened risk of foreclosure.  
Older adults in at-risk industries also spend a larger share of their income on housing than older adults working in lower-risk industries. Nearly one-quarter (27 percent) of those in at-risk industries had housing cost burdens in 2018, meaning they paid more than 30 percent of their income for housing, compared to 20 percent of older adults in low–risk industries (Figure 2).  
Figure 2: Cost Burdens for Older Adults Employed in At-Risk Industries Would Increase Significantly with the Loss of Income from COVID-19

Note: Data are for households age 65 and over only. At-risk industries are those most likely to suffer job losses or a reduction in hours due to social distancing measures as a result of COVID-19. At-risk wages include only the wage and salary income for older adults in at-risk industries. Cost-burdened households pay more than 30% of income for housing. Households with zero or negative income are assumed to have burdens.
Source: JCHS tabulations of US Census Bureau, 2018 American Community Survey 1-Year Estimates.
Should older workers in at-risk industry suffer long-term wage losses, there would be significant repercussions for housing affordability. If older adults in at-risk industries lost all their wage and salary income from these industries as a result of job losses, the cost-burden rate for this group of households would balloon to 53 percent overall, equivalent to an additional 470,000 older adult households with cost burdens. The cost-burden rate for older adult renters in at-risk industries would increase from 43 percent to 73 percent. It would rise from 35 percent to 65 percent for those with a mortgage. 
Workers, young and old, face economic uncertainty as social distancing begins to relax in some parts of the country and other states consider how and when to permit businesses to reopen. Questions remain about how quickly businesses in at-risk industries will rebound absent a vaccine. Will specific businesses weather the period of social distancing that closed so many businesses temporarily, or will losses become permanent?  
Older workers face additional concerns. Will those who lose positions be able to find other employment, given age discrimination in employment in general and as experienced during the last recession? These questions apply to the 2.8 million workers age 65 and over employed in at-risk industries, but also the 9.0 million adults aged 50–64 also employed in at-risk industries who are not ready to retire but forced out of jobs. This group may find that, if they can return to work, they may need to work longer than they previously anticipated.  
Additionally, if older workers in at-risk jobs are able to return to work, many will face the hard choice between protecting their economic security and their health in jobs where social distancing is difficult.  Yet being able to pay for one's housing is important for physical and mental health. Our analysis has shown that older adults who are unaffordably housed often cut spending on food and out-of-pocket health care expenses. More directly, research conducted during the Great Recession found links between mortgage delinquency, mental health impairments, and lower access to health resources among older owners. Given that older people are more vulnerable to serious illness from COVID-19, at least until development of a vaccine or effective treatments, they and others with underlying health conditions may be forced to choose between their financial security and their health. As the New York Times reported on June 4th, many workers (of all ages) are already facing such difficult decisions.  
Many of the steps that might help older workers have benefits to all ages, and to contagion control in general: masks and face shields, glass shields between customers and workers, and enforced capacity restrictions in places of business. Emergency benefits, including housing relief and protections against foreclosure and eviction, will remain important for older adults as well. Another important policy question is whether future relief efforts will allow workers to collect unemployment benefits if they have not lost their jobs but fear returning to them will jeopardize their health.