Not just the Sunbelt: Millennials and Baby Boomers Increasingly Head West
When Americans decide to pick up and move, over the past fifty years they most commonly have left the Northeast and Midwest and headed for warmer southern states, notably Florida and Texas. While this remains largely true, states in the West have joined the ranks of southern states as popular destinations for domestic migrants in the last decade. As a new interactive tool released with our 2018 State of the Nation's Housing report shows, these westward moves are being led by millennials and baby boomers.
On net, the number of Americans moving into the thirteen western states – a region that encompasses Montana, Wyoming, Colorado, New Mexico, and all states to their west – grew from 21,000 in 2009 to 113,000 in 2017. In contrast, the number moving to the sixteen southern states stayed relatively constant (with a spike in 2015), rising from 319,000 in 2009 to 357,000 in 2017 (Figure 1).
Figure 1: Americans are Moving South and West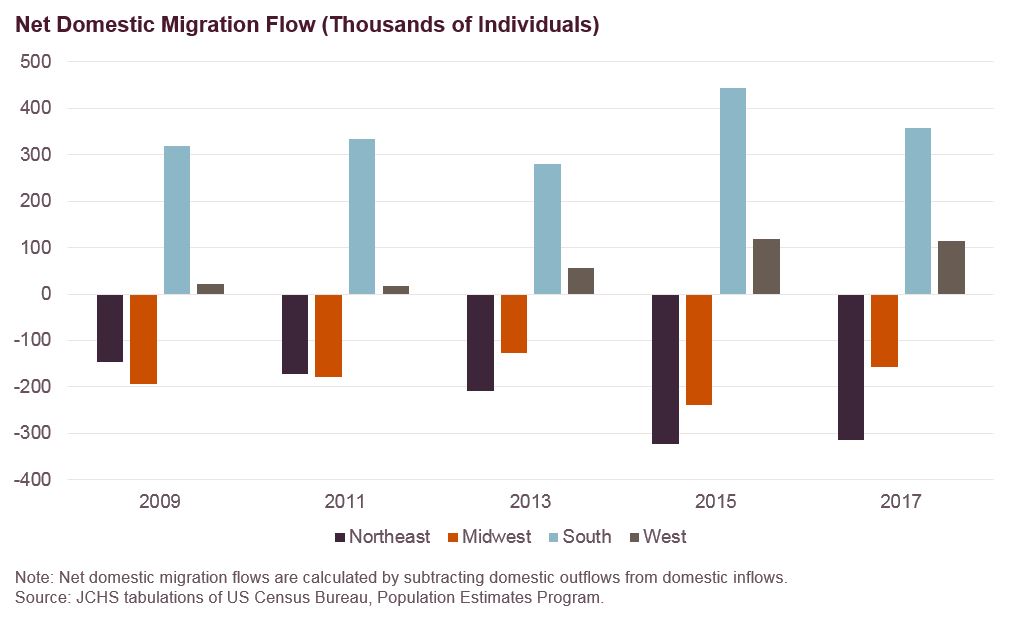 Much of this increase in western migration is attributable to millennials and baby boomers. Data from the IRS show that between 2012 and 2016, 26-34 year olds (a fixed age group in these data) flocked to the West, especially to Washington, Oregon, and Colorado, and, to a lesser extent, Montana, Idaho, and Nevada. While 26-34 year olds generally moved away from Midwestern and Northeastern states, there were small but positive net inflows of these millennials in Minnesota, Maine, and New Hampshire (Figure 2).
Figure 2: Domestic Migration Across States by Age: 65 and Over
2012-2016 Average
While members of the baby boom generation, represented in the 55-64 and 65 and over age groups in these data, still largely favored southern states, they also moved to Oregon, Washington, and Idaho as well as to Arizona and Utah. Besides the West and the South, a few other states, notably Delaware, Maine, and New Hampshire, saw positive net inflows of baby boomers (Figure 2).
As this analysis implies, while there is an overall increase in migration to the West, there are notable variations among western states. There were large net outflows of Americans (considering all ages together), for example, from California and Hawaii, but high net inflows to Washington and Arizona. Net outflows do not necessarily equate to population loss, however, due to immigration and "natural population change" (net sum of births and deaths), information on which is available from the US Census Bureau's Population Estimates Program. While there was a net loss of 138,000 domestic migrants in California from 2016 to 2017, there was a net inflow of 164,000 immigrants as well as a natural population increase of 240,000 people. As a result, the state's population grew from 39.2 million to 39.5 million, an increase of 0.6 percent. Hawaii, on the other hand, experienced slight population loss from 2016 to 2017, with a net loss of 13,500 domestic migrants, a net gain of 6,700 immigrants, and natural population growth of 5,700 people. As a result, the state's population fell by 1,100, a decrease of 0.07 percent.
Positive domestic migration net flows, however, practically guarantee population growth. From 2016 to 2017, Washington saw a net gain of 64,500 domestic migrants, 26,000 immigrants, and a natural increase of 34,000 people, leading to a population increase of 124,500, an increase of 1.7 percent. Similarly, Arizona gained 63,000 domestic migrants, 16,000 immigrants, and a natural increase of 28,000 people, leading to a population increase of 107,000, a growth of 1.5 percent.
There is even more nuance on the county level, data on which are available from the IRS. In California, for example, there were net outflows in a majority of the state's 58 counties, including those that contain the cities of Los Angeles, Oakland, San Francisco, and San Jose. Net domestic migration was positive in only a handful of counties, including those that contain the cities of Riverside, San Bernardino, and Sacramento. Only five of the 39 counties in Washington, on the other hand, posted negative net domestic migration flows, while the rest of the state's counties saw net inflows, especially those containing the cities of Seattle, Tacoma, and Spokane. Similar nuances can be found in many other states.
These patterns make it clear that immigration as well as natural population growth are particularly important factors in those states experiencing net domestic outmigration. How the consequent population changes break down by age carries significant implications for labor and housing markets.