Major Metro Remodeling Markets Projected to Heat Up Across the U.S.
Annual growth in home improvement spending is expected to be widespread across the country's largest metropolitan areas in 2018, according to a new model developed by the Remodeling Futures Program at the Joint Center. The model, described in a new research note, produces short-term projections of remodeling activity for 50 major metropolitan areas. The development of the model utilized two decades of home improvement spending in several of the nation's largest metro areas as benchmark data. As shown in the interactive map below, the Joint Center projects that improvement spending by homeowners will increase in all 50 metros this year, and increase by at least 5 percent in 41 of the 50 metros.  Moreover, the Joint Center projects that annual spending will grow by 10 percent or more in 11 of these major metros, led by Kansas City, Charlotte, San Antonio, Dallas, and Sacramento (Figure 1).
Figure 1:
Click on any metropolitan area to view historical trends and projections
These projections mirror the national projections from the Remodeling Futures' quarterly Leading Indicator of Remodeling Activity (LIRA), which predicts that national spending on remodeling will grow by over 7 percent in 2018. The metro projections suggest that the national increase is likely to be broad-based, rather than being concentrated in any one area of the country. These new metro-level projections draw on over a year of research into what drives homeowner remodeling activity at the local level, an effort that relied on home improvement data from 1995-2015 in the Detroit, Chicago, Los Angeles, and Philadelphia metro areas. As the research note explains, about two-thirds of the variation in these metros' historical growth rates is closely correlated with such factors as gains in local home prices, home sales activity, housing starts, retail sales of building materials, and remodeling permitting activity. Importantly, changes in these inputs also tend to lead remodeling activity by several quarters. Drawing on these findings, we developed a model to predict spending patterns in any metro for which we had reliable data on these inputs. In addition to offering projections on future spending, the model and the map allow us to take a retrospective look at how modeled growth rates have been trending over the past several quarters in each metro. For example, in some metros where especially strong growth is projected by year end – such as Kansas City, San Antonio, Tucson, Pittsburgh, and Austin – the model suggests that annual growth rates have been accelerating in recent quarters. In contrast, in such metros as San Diego, Las Vegas, and Portland, the model indicates that while growth should remain positive this year, it will be lower than it was in late 2016 or early 2017 (Figure 2). Additional estimates for all 50 metro areas are available in online appendix tables, which were published as part of the research note.
Figure 2: Remodeling Market Trend Examples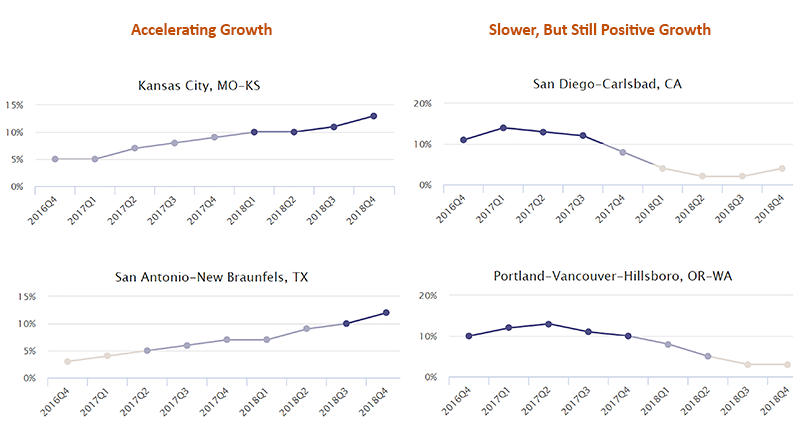 Going forward, we will routinely monitor and assess the model's performance for any adjustments that might improve our metro-level remodeling projections over time. We plan to release 2019 projections for metro area growth in home improvement spending early next year.