Home Remodeling Expected to Remain Strong and Steady into 2019
The robust pace of spending on home renovations and repairs is expected to stay strong over the coming quarters, according to our latest Leading Indicator of Remodeling Activity (LIRA). The LIRA projects that annual growth in homeowner remodeling expenditure will remain above 7 percent throughout the year and into the first quarter of 2019.
Strengthening employment conditions and rising home values are encouraging homeowners to make greater investments in their homes. Upward trends in retail sales of building materials and the growing number of remodeling permits indicate that homeowners are doing more—and larger—improvement projects.
While the overall outlook is positive, one area of concern is the slowing growth in sales of existing homes, since sales traditionally trigger significant renovation spending by both sellers and buyers. Even with this headwind, annual spending on residential improvements and repairs by homeowners is set to exceed $340 billion by early next year.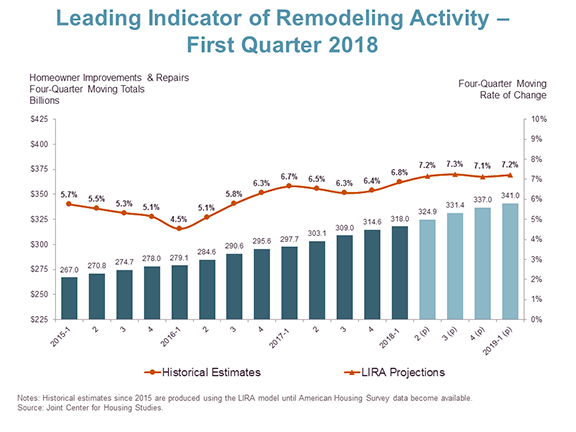 For more information about the LIRA, including how it is calculated, visit the JCHS website.