Home Remodeling Activity Looking to Gain Steam Through Mid-Year
Expenditures for home improvements should see healthy gains in 2016, according to the Leading Indicator of Remodeling Activity (LIRA) released today by the Remodeling Futures Program at the Joint Center for Housing Studies of Harvard University. The LIRA projects annual spending growth for home improvements will accelerate from 4.3% in the first quarter of 2016 to 7.6% in the third quarter. By then, the level of annual spending in nominal terms is anticipated to surpass the previous peak set in 2006.
2016 is looking to be a stronger year for home renovation activity compared to 2015 thanks to the continued recovery in the owner-occupied housing market. In most markets across the country, rising house prices are bringing more homes to the market and increasing sales, which is a large driver of home improvement activity.
The remodeling market has steadily improved in recent years with homeowners incorporating larger, more discretionary projects into their home improvement priorities. The real test this year will be whether the industry can clear ongoing bottlenecks in labor availability and consumer financing concerns to fully meet this increased demand.  (Click chart to enlarge.)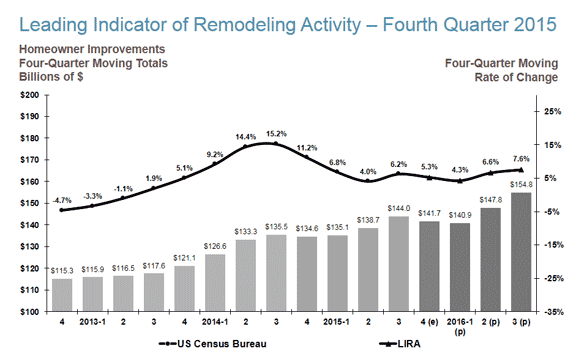 Notes: (e) – estimated; (p) – projected.  Historical data through the third quarter 2015 reflect significant revisions released by the US Census Bureau on 1-4-16. For more information, see: http://www.census.gov/construction/c30/news.html. The fourth quarter 2015 is calculated using preliminary Census Bureau data and LIRA projections.
Source: Joint Center for Housing Studies of Harvard University. 
For more information about the LIRA, including how it is calculated, please visit the Joint Center for Housing Studies website.