Below-Average Growth in Home Remodeling Expected by 2020
Annual gains in improvement and repair spending on the owner-occupied housing stock are projected to continue decelerating through early next year, according to our latest Leading Indicator of Remodeling Activity (LIRA). The LIRA forecasts that year-over-year growth in homeowner remodeling expenditure will slow from about 7 percent today to 2.6 percent by the first quarter of 2020.
Cooling house price gains, home sales activity, and remodeling permitting are lowering our expectations for home improvement and repair spending this year and next. Yet, more favorable mortgage rates could still give a boost to home sales and refinancing this spring and summer, which could help buoy remodeling activity.
Home improvement and repair spending has been in an extended period of above trend growth for several years, due to weak homebuilding, aging homes, and other factors. However, growth in remodeling is expected to fall below the market's historical average of 5 percent for the first time since 2013.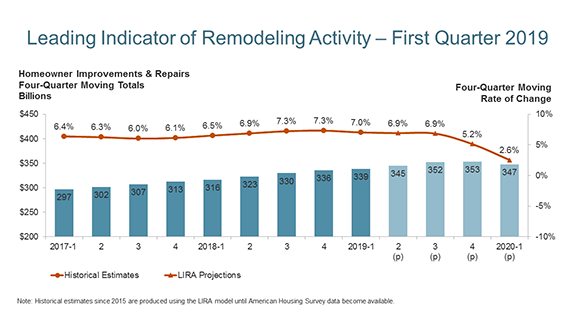 For more information, visit the LIRA page of our website.