Expected Gains in Remodeling Spending to Slide Lower in 2019
Annual growth in the national market for home improvement and repair is expected to slow considerably by the end of the year, according to our latest Leading Indicator of Remodeling Activity (LIRA) released today. The LIRA projects that gains in renovation and repair spending to owner-occupied homes in the U.S. will shrink from 7.5 percent in 2018 to 5.1 percent in 2019.
Slowing house price appreciation, flat home sales activity, and rising mortgage interest rates are deflating owners' interest in making major investments in home improvements this year. Continued slowdowns in homebuilding, sales of building materials, and remodeling permits all point to a more challenging environment for home remodeling in 2019.
Despite the growing headwinds, improvement and repair spending is still set to expand this year to over $350 billion. But after several years of stronger-than-average increases, the pace of growth in remodeling activity is expected to fall back to the market's historical average annual gain of 5.2 percent.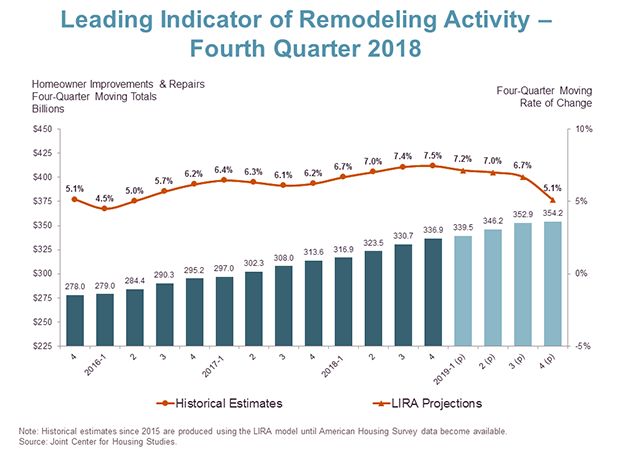 For more information, visit the LIRA page of our website.