Early Impacts of Pandemic Suggest an Abrupt About-Face for the Remodeling Market
Owner expenditures for home renovations and repairs are expected to decline at least through the first quarter of next year due to fallout from the COVID-19 pandemic, according to our latest Leading Indicator of Remodeling Activity (LIRA). Pre-pandemic, the LIRA pointed to a healthy rebound in home remodeling spending with annual growth of 3.9 percent by the first quarter of 2021, but the latest data incorporating both actual and forecasted impacts of the economic shutdown point to spending declines this year with further worsening into 2021.
While there is still considerable uncertainty surrounding the near- and longer-term impacts of the pandemic, the best available evidence suggests substantial downturns in key remodeling indicators of new home construction, home sales, and values of existing homes over the coming quarters. Homeowners who are concerned about losses of income, home equity, and other forms of wealth are anxious about making large investments in improving their homes in this economic environment.
With the unprecedented changes to the US economy since mid-March, the Remodeling Futures Program is providing a downside range for the home remodeling outlook, which incorporates forecasts for several core model inputs—retail sales of building materials, home prices, and GDP. Quarterly spending for improvements and repairs to the owner-occupied housing stock is projected to turn negative by the third quarter, and annual expenditures are expected to fall to $322 billion by early next year with potential for even more severe declines to follow. Beyond the start of next year, remodeling activity that would typically result from expanding homebuilding, sales of existing homes, and home prices mean the greatest downturn could come later in 2021 with recovery depending on what occurs in housing markets over the remainder of this year.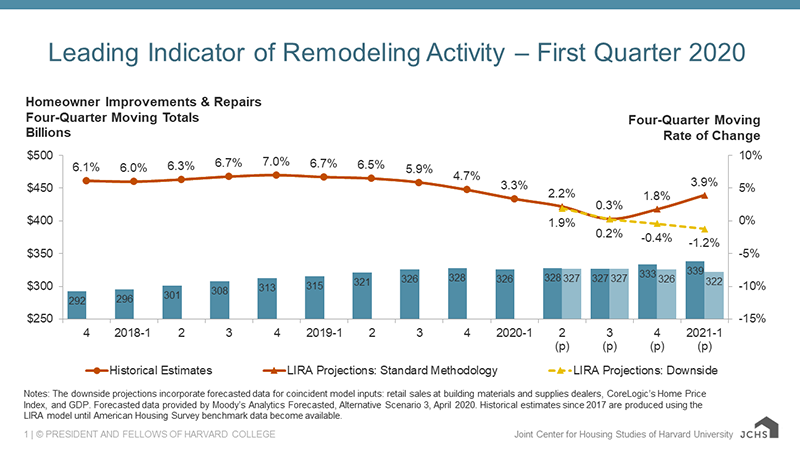 For more information, visit the LIRA page of our website.