Double Digit Growth in Remodeling Spending Expected Through Mid-Year
The home remodeling market should see strong growth in 2014, according to our latest Leading Indicator of Remodeling Activity (LIRA).  The double-digit gains in annual home improvement spending projected for the first half of the year should moderate some to just under 10 percent by the third quarter.
The ongoing growth that we've seen in home prices, housing starts, and existing home sales is also being reflected in home improvement activity. As owners gain more confidence in the housing market, they are likely to undertake home improvements that they have deferred.  However, the strong growth for this cycle may start to ebb a bit beginning around midyear.  By that time, we'll be approaching the pre-recessionary levels of spending, and with borrowing costs starting to creep back up, growth rates are likely to slow some.  (Click chart to enlarge.)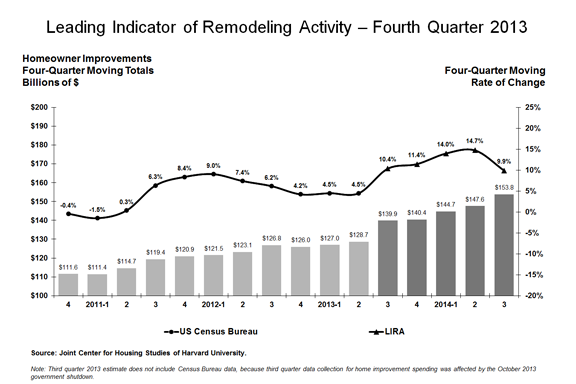 For more information about the LIRA, including how it is calculated, visit the Joint Center website.