Affordable Rental Housing Development in the For-Profit Sector: A Case Study of McCormack Baron Salazar
Despite the private for-profit sector's importance in affordable housing development, there has been relatively little research on the sector. Many researchers working on affordable housing issues have, instead, focused attention on the role of nonprofit organizations and public housing authorities. My new working paper on one of the country's leading for-profit affordable housing developers, McCormack Baron Salazar (MBS), provides some insights into their successful business model.
In view of the fact that the private for-profit sector is not able to build housing that is affordable to lower income households without public assistance, while still realizing the desired level of profit, the federal government has been providing various incentives to the private sector for more than 50 years. Public incentives, which can be used by both for-profit and nonprofit developers, replaced the prior federal strategy of providing deep subsidies to local housing authorities to produce public housing. Although private for-profit developers have the potential of adding "market discipline" to deals, a key challenge is how to provide sufficient incentives to encourage private sector participation, while also safeguarding the public purposes of housing programs—providing housing over the long-term, at prices that are affordable to lower-income residents who are unable to compete in the private housing market.
The Low Income Housing Tax Credit (LIHTC) program, created in 1986, cemented the role of private developers in affordable housing development and is now the major federal housing subsidy program aimed at assisting lower-income households. According to data compiled by JCHS Research Analyst Irene Lew, for-profit developers have produced about 78 percent of the LIHTC projects placed in service between 1987 and 2013.
A search of the literature* explores the extent to which for-profit developers meet the requirements of the "Quadruple Bottom Line." This concept suggests that all affordable housing developments should:
have the financial backing necessary to preserve the development's long-term affordability;
address the social and economic needs of the residents;
contribute positively to the neighborhood; and
be environmentally sustainable (Bratt 2008a, p. 358; see also Bratt, 2012).
The case study of MBS, which focuses on their home-base city of St. Louis, presents information on this company's approach to meeting these standards. MBS is well aware of these concerns and appears to be incorporating them into their operations.
The roots of MBS go back to 1973, embracing the vision "to rebuild low-income communities by providing quality housing options for all people." The firm's first projects involved the development of relatively small-scale mixed-income rental properties on single sites. This model changed over time, with the major focus being the redevelopment of large deteriorated housing developments into new mixed-income communities.
In addition to revitalizing places, the firm has a strong commitment to the residents of the communities they build. With the assistance of Urban Strategies, the separate nonprofit organization they formed, MBS works with local officials to develop high quality new neighborhood schools, collaborates with social services providers, and creates well-designed developments with amenities that support family living. Through all these efforts, MBS strives to promote the economic security of their residents.
Over the years, MBS has identified a group of "essential ingredients" that are needed for it to make a commitment to do a specific project:
First, in understanding their role as outsiders to the community, MBS believes that a strong local partner with a stake in the development is essential. This can be a local government, a philanthropic investor, a large nonprofit institution such as a hospital or university, or a private business that is willing and able to contribute significant financial and in-kind resources to the early phases of the project.
Second, the proposed development must have an attractive location. It must be either downtown or close to an anchor institution in that community. Often, the lead local development partner is, in fact, that anchor institution and therefore has a great deal to gain by upgrading the general area in which it is located.
Third, and consistent with securing an appropriate local partner, MBS works to limit as much as possible their up-front risk in a deal. Thus, MBS expects its local partner(s) to cover most or all of the soft costs involved in getting the development launched, including architectural and engineering studies and acquiring the necessary permits. Once development is underway, MBS becomes fully in charge of the process and is ready to assume the bulk of the risk.
Fourth, in order to make MBS's large, complex deals work, and to ensure that the housing will be affordable to the intended group of households, additional financial resources are typically required (e.g., from the federal, state or local government, from a private institution, from a philanthropic entity, and/or from a corporate partner). In short, there is usually a great deal of subsidy money involved.
Fifth, development fees must be adequate, and, for the most part, are non-negotiable.
Even a project that incorporates all of MBS's "essential ingredients" may still face significant challenges, largely due to external constraints and the complexity of developing and managing high quality affordable housing. A problem facing some MBS developments is that insufficient public housing authority reserves have been set aside. This issue is looming in projects owned by the St. Louis Housing Authority, for example, where some stakeholders fear that the high quality of the developments will suffer once reserves are depleted. However, unless Congress drastically cuts public housing operating subsidy funding, MBS principals feel that such depletion is unlikely at least within the next few years.
A second major issue is the lack of a budgeted line-item for resident services. Although MBS has a commitment to providing high quality supports and educational opportunities for its residents through Urban Strategies, its ability to do so depends on funding from outside sources.  Many nonprofit organizations strive to provide resident services through cash flow generated from the operation of their buildings.
MBS's redeveloped properties are typically only able to offer the new housing to about 20-30 percent of the original residents. Although this is apparently higher than the standard for this type of redevelopment project, the often-heard criticism of HOPE VI projects, that resident selection processes result in "creaming" (admitting only the most stable and reliable tenants to the new developments), also appears to be a factor in MBS properties. The other side of this argument, of course, is that property managers and resident committees are responsible for assuring, as much as possible, that the new tenants are able to pay their rent and that they will not cause any problems for management or for the other residents.
Going forward, it is not clear how easy it will be for any firm, including MBS, to pursue its preferred strategy—large-scale, mixed-income development. A number of circumstances aligned in a positive way and provided fertile ground for MBS's current business model to emerge and flourish.
The paper concludes with an overview of the components of successful public-private affordable housing programs, regardless of whether the developer is a for-profit or a nonprofit. The paper also suggests that there is a need to better understand the full range of for-profit affordable housing developers, including their overall strengths and weaknesses; clearly, MBS represents only one type of for-profit firm. Certainly, the mission driven aspects of MBS's business model are not typically a motivating factor for the great majority of private for-profit affordable housing developers. The recommendations also emphasize the importance of a strong and committed federal role in affordable housing development, including the need for deeper housing subsidies, with less reliance on multiple funders for putting together affordable housing development deals. Even a large, well-capitalized firm like MBS cannot develop affordable housing without additional and significant public and private resources, and assembling them can be a difficult and time-consuming process.
---
Renaissance Place at Grand, St. Louis, Missouri
The Arthur Blumeyer public housing development was built in 1968, housing 1,162 family and elderly households.
HUD awarded the St. Louis Housing Authority a $35 million HOPE VI grant for Blumeyer's redevelopment in 2001.
The new community, renamed Renaissance Place by residents, and developed by MBS, contains 512 mixed-income apartments, including 140 which are in universally-designed accessible buildings
Context of the large-scale housing development – a neighborhood within a neighborhood.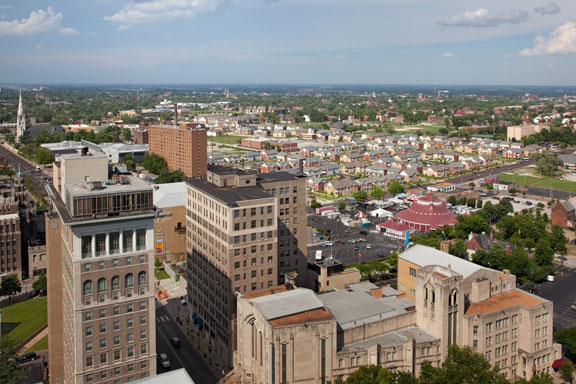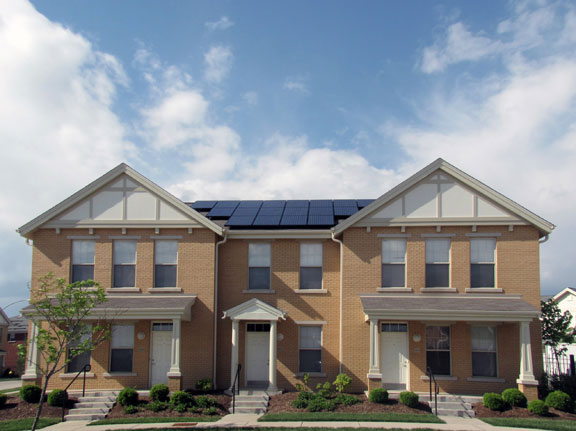 ---
Note * The  literature review part of the paper was written jointly with Irene Lew, Research Analyst, Joint Center for Housing Studies
References
Bratt, Rachel G. 2008. "Nonprofit and For-profit Developers of Subsidized Rental Housing: Comparative Attributes and Collaborative Opportunities." Housing Policy Debate 19(2):323-365.
___. 2012. "The Quadruple Bottom Line and Nonprofit Housing Organizations in the United States." Housing Studies 27(4): 438-456.