Above-Average Gains in Home Renovation and Repair Spending Expected to Continue
Over the coming year, homeowner remodeling activity is projected to accelerate, keeping the rate of growth above its long-term trend, according to our latest Leading Indicator of Remodeling Activity. The LIRA anticipates growth in home improvement and repair expenditures will reach 8.0 percent by the start of 2017, well in excess of its 4.9 percent historical average.
A healthier housing market, with rising house prices and increased sales activity, should translate into bigger gains for remodeling this year and next. As more homeowners are enticed to list their properties, we can expect increased remodeling and repair in preparation for sales, coupled with spending by the new owners who are looking to customize their homes to fit their needs.
By the middle of next year, the national remodeling market should be very close to a full recovery from its worst downturn on record. Annual spending is set to reach $321 billion by then, which after adjusting for inflation is just shy of the previous peak set in 2006 before the housing crash.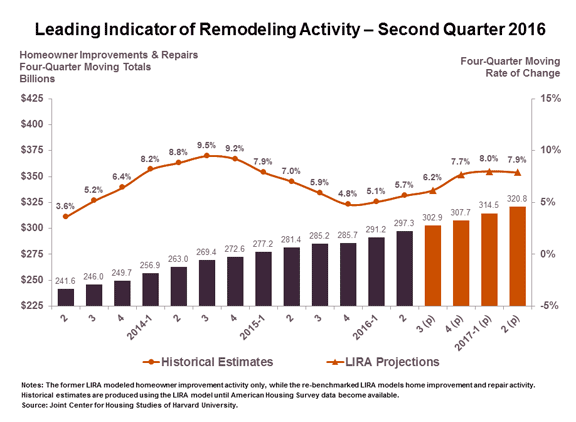 For more information about the LIRA, including how it is calculated, visit the JCHS website.
NOTE ON LIRA MODEL: As of April 21, 2016, the LIRA has undergone a major re-benchmarking and recalculation in order to better forecast a broader segment of the national residential remodeling market. For more information on this, see our earlier blog post, and read the research note: Re-Benchmarking the Leading Indicator of Remodeling Activity.