Covid-19 RECAPP
Review of Equitable Community-based Aging Policies and Practices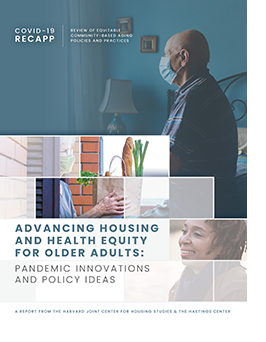 The Joint Center for Housing Studies and The Hastings Center partnered to explore lessons learned during the pandemic about supporting older adults dwelling in the community. Our COVID RECAPP report, Advancing Housing and Health Equity for Older Adults: Pandemic Innovations and Policy Ideas, identifies housing-focused policies and practices developed by housing providers, advocates, government agencies, and older adults themselves to address a range of needs that arose during or were exacerbated by the pandemic, including loneliness; disruptions in access to food, supportive services, and healthcare; and challenges with housing affordability, safety, and accessibility.
---
Watch our 4-part series of webinars, focused on themes in the report:
For additional resources mentioned in the webinars, visit the Hastings Center website.