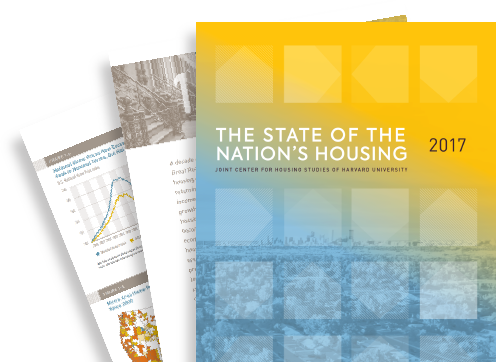 Read Full Report
Interactive Maps

| | | |
| --- | --- | --- |
| Homeowner Affordability | Cost Burdens | Home Prices |
Online Data Tools
| | | |
| --- | --- | --- |
| Homeowner Affordability | Cost Burdens | Appendix Tables (Excel) |
Interactive Charts
| | | |
| --- | --- | --- |
| Loss of Low-Rent Units | Suburbanization of Poverty | |
Live Webcast
The State of the Nation's Housing 2017 was released in a live webcast from The National League of Cities in Washington D.C. on Friday, June 16.
The event featured:
Kriston Capps, Staff Writer, The Atlantic/CityLab (panel moderator)
Chris Herbert, Managing Director, Joint Center for Housing Studies
Mayor Catherine E. Pugh, City of Baltimore, Maryland
Terri Ludwig, President & CEO, Enterprise Community Partners
Robert C. Kettler, Chairman & CEO, Kettler
Media Kit
Media Contact
Kerry Donahue
Associate Director of Communications
(617) 495-7640
kerry_donahue@harvard.edu
Looking for a previous State of the Nation's Housing report?
Visit our Working Papers & Reports page.

This report is licensed under a Creative Commons Attribution 4.0 International License.