America's Rental Housing 2015: Expanding Options for Diverse and Growing Demand
Rental housing is home to a growing share of the nation's increasingly diverse households, but even with the strong rebound in multifamily construction, tight rental markets make it difficult for low- and moderate-income renters to find housing they can afford. As a result, the number of cost-burdened renters set another record last year. Addressing the challenge of affordability in a time of rising overall demand will require greater efforts from both the public and private sectors to expand the range of rental housing options. 
Interactive Map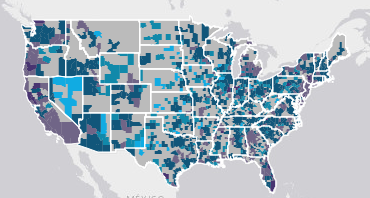 Release Event in Washington, DC
Presented December 9, 2015 in Washington D.C., featuring:
Research presentation by Jonathan Spader

Panel discussion led by Emily Badger, Washington Post, with Chris Herbert, Director, Harvard Joint Center for Housing Studies, Ellen Seidman, Senior Fellow, Urban Institute, Hipólito (Paul) Roldán, President and CEO, Hispanic Housing Development Corporation, and Toby Bozzuto, President and CEO, The Bozzuto Group
This report is supported by the John D. and Catherine T. MacArthur Foundation, and by the Policy Advisory Board of the Joint Center for Housing Studies.
The Joint Center thanks the members of the America's Rental Housing Advisory Committee for their thoughtful contribution throughout all stages of report planning and development:
Marcea Barringer (NeighborWorks), Michael Berman (Harvard JCHS), Michael Bodaken (National Housing Trust), Michael Carliner (Harvard JCHS), Sheila Crowley (National Low Income Housing Coalition), Ingrid Ellen (NYU Furman Center), Ethan Handelman (National Housing Conference), Andrew Jakabovics (Enterprise Community Partners), Kirsten Johnson-Obey (NeighborWorks), Ellen Lurie Hoffman (National Housing Trust), Shekar Narasimhan (Harvard JCHS), Mark Obrinsky (National Multifamily Housing Council), Danilo Pelletiere (HUD), Erika Poethig (Urban Institute), Douglas Rice (Center on Budget and Policy Priorities), Barbara Sard (Center on Budget and Policy Priorities), Kristin Siglin (Housing Partnership Network), Lisa Sturtevant (National Housing Conference), Caitlin Walter (National Multifamily Housing Council), Stockton Williams (Urban Land Institute), Jamie Woodwell (Mortgage Bankers Association), Barry Zigas (Zigas and Associates)