The Pandemic Reveals the Need for Space, But Building Smaller Units Remains Essential
One result of the COVID-19 pandemic has likely been increased demand for larger homes, including those with dedicated office and exercise space. As a result, some housing experts predict that new construction in 2021 will need to meet the extra space requirements many are seeking, including additional rooms and outdoor space. But the focus on larger housing during the pandemic should not derail the momentum in smaller home construction of the past half-decade. Indeed, demand for smaller homes, which tend to be more modestly priced, remains strong.
In recent years, many of the nation's largest homebuilders have recognized the rising demand for more modest-cost housing options, frequently emphasizing "entry-level" or "lower-market" housing in their annual financial documents. According to our analysis of 10-Ks filed in 2019 (which provide an overview of a company's financial conditions), at least four of the nation's 10 largest builders in 2019 acknowledged the growing and persistent demand for lower-cost housing. In its 2019 annual report, the nation's eighth largest homebuilder, Century Communities, noted that the "anticipated increased demand for more affordable homes due to generational shifts, changing demographics and other factors" has led to their increased "focus on offering more affordable housing options in our markets." The fundamentals underlying this demand for more affordable homes have not changed during the pandemic.
In response to high demand for more moderate-cost housing, several of these builders increased their production of units targeting entry-level buyers. For example, the nation's largest homebuilder, D.R. Horton, reported a substantial increase in the share of home closings for their Express Homes (entry-level housing for buyers focused on affordability), from about 15 percent in 2015 to 35 percent in 2019. These homes are often under 2,000 square feet, and typically cost between $200,000 and $400,000. In contrast, the company's luxury offerings can be as large as 4,500 square feet and cost well above $400,000.
Likewise, first-time buyers represented 29 percent of PulteGroup's home closings in 2019, consistent with the company's stated goal of expanding its affordable business. And Meritage Homes began its 2019 letter to shareholders noting its strategy to "focus exclusively on the entry-level and first move-up markets." To that end, 47 percent of its communities were entry level in 2019, up from 29 percent in 2017.
The emphasis on modest-cost housing construction is backed up by national statistics. According to our latest State of the Nation's Housing report, the number of small home completions (single-family homes under 1,800 square feet) rose for the fifth straight year in 2019, including a 13 percent uptick that year. In total, there were 217,000 single-family completions under 1,800 square feet, representing about one-quarter of new construction (Figure 1). However, small home construction is still well below levels from prior decades. In 1999, 473,000 small units were completed, fully 37 percent of all single-family homes.
Figure 1: After a Sharp Drop-off During the Great Recession, Construction of Smaller, More Affordable Homes Continued to Rebound in 2019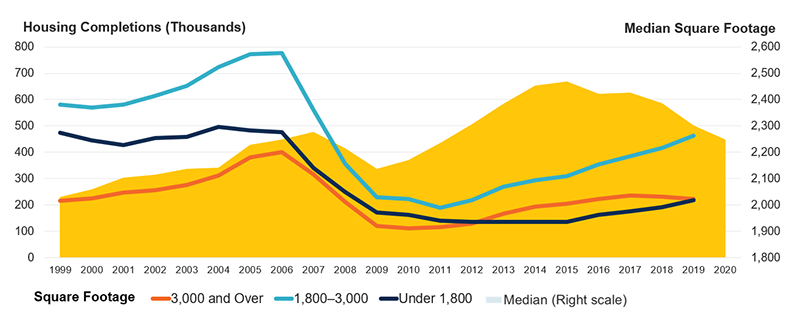 Indeed, despite the recent uptick in small homes, the median square footage of newly completed single-family homes increased 24 percent between 1989 and 2019, even as the number of people per household declined somewhat over the same period. This has left many homeowners with an extra bedroom that can be used for office space, exercise, or schooling. Indeed, 61 percent of homeowners with five or fewer people (accounting for 96 percent of all homeowners) have more bedrooms than people, including 27 percent with two or more extra bedrooms. This could suggest that a majority of homeowners already had at least some of the extra space necessary to manage increased hours working from home, leading to likely increases in home office remodeling and other renovations. What's lacking are more affordable homes which are often smaller.
The COVID-19 pandemic has shined a light on the importance of adequate housing, including the crucial function of private indoor and outdoor space. But demand for larger housing should not detract from the need to build diverse housing units that are more affordable to potential buyers, including entry-level and lower-market homes. Ensuring affordability over the long term requires building not just more housing but more smaller homes.