Increasing Land Prices Make Housing Less Affordable
Between 2012 and 2017, the value of land used for single-family housing in the United States rose almost four times faster than inflation, according to our 2019 State of the Nation's Housing report. As a result, the median price per acre of land under existing single-family homes rose from $159,800 in 2012 to $203,200 in 2017, a 27 percent increase, according to the Center's tabulations of newly released data from the Federal Housing Finance Agency (FHFA). This suggests that land costs play a key role in the recent runup in home prices, which rose nearly 29 percent over the same period according to a separate FHFA All-Transaction House Price Index. Indeed, while construction costs vary somewhat from place to place, the real driver of home prices is often the varying value of land.
The FHFA dataset is based on more than 16 million appraisals of single-family homes in counties containing 85 percent of the nation's population. It shows that the median price per acre of land tops $500,000 in nearly 10 percent of the nation's counties. These counties include most of coastal California, much of the Northeast, and parts of the Portland (OR), Seattle, Honolulu, Denver, and Miami metro areas.
However, the increases in land prices were not only concentrated in the nation's hot markets. Rather, as the interactive map below shows, land prices increased in 80 percent of US counties in 2012–2017 (Figure 1). The increases were most prevalent in the West (92 percent of counties), but also occurred in more than three-quarters of counties in the Northeast (76 percent), Midwest (76 percent), and South (78 percent). Prices increased by more than 50 percent in over 13 percent of counties and more than doubled in 3 percent, nearly all of them in the West.
Figure 1: Residential Land Prices in Many Areas Have Risen Sharply Since 2012
Differences within metropolitan areas were also striking. Notably, price increases were especially sharp in the core counties of metros with over a million residents, rising 72 percent to $360,200 per acre in 2017 (Figure 2). In contrast, prices in the suburban counties of these large metros increased by 37 percent, rising to $257,700 on average. Land-price increases were more modest in metros with under a million people (17 percent) and in non-metro areas (4 percent).
Figure 2: Single-Family Land Prices Have Grown Considerably Since 2012, But Especially in the Core Counties of Large Metros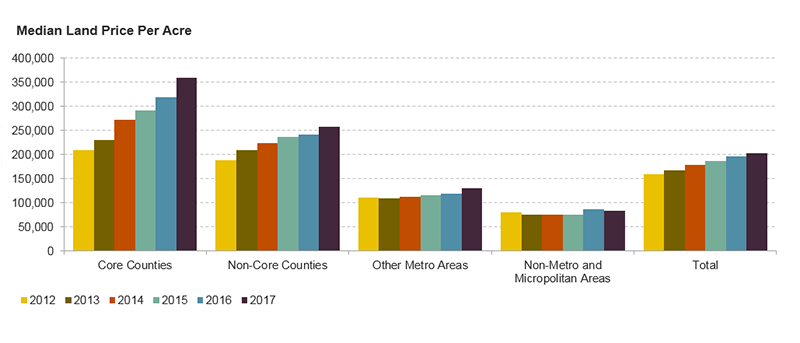 Note: Core counties and non-core counties are in large metro areas with a population over 1 million people in 2010. Core counties contain either the largest city or any city with 250,000 residents. Estimates are for land underneath existing single-family homes. Median land values are weighted by the share of single-family housing units within each county.
Source: JCHS tabulations of FHFA, The Price of Residential Land for Counties, ZIP codes, and Census Tracts in the United States.
Overall, land price growth in core counties outpaced growth in suburban counties in 30 of 49 markets with data available. Illustratively, in Suffolk County, Massachusetts which primarily consists of the city of Boston, single-family land prices rose 67 percent, increasing from $1.7 million to $2.8 million per acre. In the Boston metro area's other six counties, the increases in land prices ranged from a high of 39 percent in nearby Middlesex County (which includes Cambridge and many of the region's higher-priced western and northern suburbs) to a low of 17 percent in Strafford County, which is located in southern New Hampshire. Similarly, in Nashville, per-acre land prices rose by 68 percent in Davidson County, which includes the city of Nashville. In the region's eight surrounding suburban counties, prices increased by between 13 and 46 percent.
Suburban county prices rose faster than those in core counties in a mix of expensive markets (including San Jose and San Francisco), fast-growing regions (such as Dallas and Oklahoma City), and less robust metros (such as Milwaukee and Memphis).
Since land represents a large share of the value of homes in much of the country, these rapidly rising land values are a key driver of recent home price increases—along with labor constraints, building materials costs, and undue regulatory burdens. Combined, these factors make it increasingly difficult for homebuilders to construct new modest-cost housing, which could accommodate the growing demand for starter homes by millennials aging into peak homebuying years. Therefore, finding ways to slow the rise in land prices will be an important part of any effort to address the continued challenge of making housing affordable for more people.