Advancing Inclusive and Sustainable Urban Development
Tackling urban poverty and attending to its spatial manifestations is vitally important. The speed with which many regions of the world are urbanizing, the haphazard spatial development of urban areas, and the deplorable living conditions of more than 800 million slum dwellers make the need to address urban poverty more urgent than ever. Climate change is only intensifying the necessity to act, as the urban poor tend to occupy land susceptible to physical risk, such as steep slopes, flood plains, or low-lying coastal areas made more vulnerable with extreme weather and climate variability. At the same time, however, government and business leaders are awakening to the potential to advance social and economic development by engaging the urban poor as consumers, producers, asset-builders, and entrepreneurs.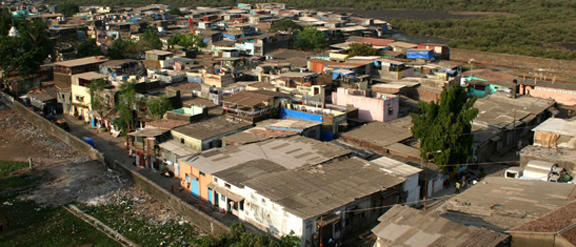 The Joint Center's recent report, Advancing Inclusive and Sustainable Urban Development: Correcting Planning Failures and Connecting Communities to Capital, highlights the challenges of tackling urban poverty as well as promising strategies to do so. Obstacles to addressing slums and realizing the potential of slum residents include weak, non-participatory, and uncoordinated urban planning. National governments often establish regional authorities or public-private partnerships to plan major investments in urban infrastructure that fail to consider broader regional land use planning goals, community input, or the needs of poor communities. Local land use regulations and plans, to the extent that they exist at all, are not widely followed. Plans for slums seldom situate them in the context of broader plans for the urban region. And the non-governmental organizations that do much of the work to improve slums rarely coordinate their efforts. In addition, community-based organizations often are weak and not incorporated into the government's urban planning process.  Finally, these governments, authorities, and partnerships generally fail to formulate specific strategies to improve or redevelop slums in ways that leave the poor better off.
Yet many examples of better planning practices exist around the world: efforts to develop national strategies for urban development and poverty alleviation, metropolitan regional planning and governance, anticipatory planning for urban growth and climate change, spatial planning and coordination of land uses and investments, participatory planning and community engagement, asset building for the poor, and institutional transparency and accountability through initiatives such as participatory municipal budgeting.
Drawing on these positive examples, several strategies emerge to improve urban planning and investment in order to spur inclusive and sustainable urban development. Most important, spatial planning must be fully integrated with investments in infrastructure, and the development of regional plans must involve participation by all stakeholders. A variety of practices can support inclusive, integrated planning such as funding for multi-stakeholder planning at the regional level and investment in community-based organizations and their intermediary supports. Government capacity can be built through national urban development commissions—spurred by intergovernmental, international bodies—charged with developing plans for inclusive and sustainable urban development. Technical assistance and capacity building can help national, regional, state, or local governments form and manage public-private partnerships, optimizing the use of scarce public resources while also introducing stronger and more rational spatial and participatory planning techniques into the process. A host of other tools described in the report can support more coordinated planning and investment as well as innovation in employment and small business, housing, and infrastructure programs in slums.
Taken together, these actions would greatly improve planning for inclusive and sustainable urban development and create an international movement to focus on these issues. With a growing list of examples of best practices to address urban poverty in effective ways (many summarized in the report), the Millennium Development Goals established by the United Nations still before us, and a chorus of globally-branded businesses (including McKinsey and JP Morgan Chase) calling for better urban planning and poverty amelioration strategies, there is a chance that these issues will gain the international attention they deserve and lead to concrete actions.
Read the new Joint Center report: Advancing Inclusive and Sustainable Urban Development: Correcting Planning Failures and Connecting Communities to Capital