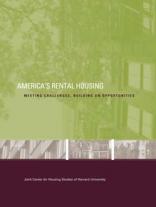 Read Full Report
The troubled homeowner market, along with demographic shifts, has highlighted the vital role that the rental sector plays in providing affordable homes on flexible terms. But while rental housing is the home of choice for a diverse cross-section of Americans, it is also the home of necessity for millions of low-income households. And the share of US households unable to find affordable rentals has been on the rise for a half-century, with an especially large jump in the last decade as renter income fell even further behind housing and utility cost increases. Even as the need for affordable housing grows—both assisted by the government and supplied in the private market—long-run pressures continue to threaten this essential resource...
America's Rental Housing: Meeting Challenges, Building on Opportunites (5 MB)
Black & white version (optimized for printing)
Download by Chapter
Media Kit
Looking for a previous America's Rental Housing Report? Visit our Working Papers & Reports page.