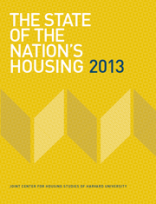 Read Full Report
Live Webcast

Hosted by NPR reporter Chris Arnold, and featuring Eric Belsky (Harvard Joint Center for Housing Studies), Eileen Fitzgerald (NeighborWorks America), Debra Still (Mortgage Bankers Association), and George McCarthy (Ford Foundation).

Media Kit

Download Report by Chapter
Blogs & Responses to the Report
Interview requests or additional information, please contact:
Kerry Donahue, (617) 495-7640, kerry_donahue@harvard.edu
Looking for a previous State of the Nation's Housing report? Visit our Working Papers & Reports page.