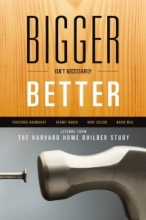 CAMBRIDGE, MA – A new book from researchers at Harvard University shows that American home builders were immensely profitable during the housing boom, but did little to improve the efficiency of their operations. Bigger Isn't Necessarily Better: Lessons from the Harvard Home Builder Study, just released by Lexington Books, examines the performance and operation of the US home building sector based on a detailed survey of large home builders during the housing boom of the 2000s. "Home builder consolidation was one of the most powerful forces this industry has seen over the past several decades," says Frederick Abernathy, a professor of mechanical engineering at Harvard University and one of the book's authors. "Yet it's almost impossible to see its influence in the basic operations of these large companies."
Though numerous studies have focused on the financial side of the housing sector prior to the Great Recession, Bigger Isn't Necessarily Better examines the building side of the industry and what did, and, more importantly, what did not, happen during the period of unprecedented growth from 1999 to 2004. "Large homebuilders were very effective at attracting capital for expansion, assembling favorable land positions, and developing a consistent corporate brand," says Kent Colton, a Senior Fellow at Harvard's Joint Center for Housing Studies. "However, since much of the growth over this period was through acquisitions, there was little opportunity to fully integrate them into practices and procedures of the parent company." The home building industry still has gains it can realize from improving basic on-site building operations. "In a weaker and more competitive housing market, companies with more efficient operations will be the ones that thrive," says Kermit Baker, a researcher at the Joint Center.
Examining the experience of companies in other industries, from autos to computers to retail, Bigger Isn't Necessarily Better provides insight into how American home builders might better cope with operational challenges going forward. "Many other industries have faced these same challenges," says David Weil of the Boston University School of Management. "Home building is an unusually decentralized industry, and for that reason typically has not been a leader in implementing new innovations. Still, there has never been a more important time to introduce new practices into this industry."
Bigger Isn't Necessarily Better is available online at Lexington Books and Amazon.com.
Frederick Abernathy is Gordon McKay Research Professor of Mechanical Engineering and Abbott and James Lawrence Research Professor of Engineering in Harvard University's School of Engineering and Applied Sciences.
Kermit Baker is a Senior Research Fellow at Harvard University's Joint Center for Housing Studies.
Kent W. Colton is President of The Colton Housing Group and is a Senior Fellow at Harvard University's Joint Center for Housing Studies.
David Weil is Professor of Economics and Everett W. Lord Distinguished Faculty Scholar at Boston University School of Management.
The Harvard Joint Center for Housing Studies advances understanding of housing issues and informs policy. Through its research, education, and public outreach programs, the center helps leaders in government, business, and the civic sectors make decisions that effectively address the needs of cities and communities. Through graduate and executive courses, as well as fellowships and internship opportunities, the Joint Center also trains and inspires the next generation of housing leaders. For more information, please visit www.jchs.harvard.edu.
For more information, please contact:
Kerry Donahue
Communications & External Relations Coordinator
(617) 495-7640, kerry_donahue@harvard.edu